Foreseeing future trends and events is challenging. However, understanding future demand and our capabilities for fulfilling it is a key lever for profitable business. Since crystal balls will not be helpful, a solid Sales and Operations Planning process can help companies to ensure both good customer service and efficient operations through balancing supply and demand.
Why are many companies developing their S&OP –process?
There are high pressures for good availability and fast delivery in many supply chains. Customer demand tends to be more volatile than before, with a lot of embedded uncertainties. On the other hand, companies face high pressure for cost efficiency, which can be seen in operating different capacities with high utilization and low inventories. Supply chains are becoming more complex, but for the before mentioned reasons there is an even bigger need for a common understanding and information sharing – both between the supply chain parties and between different functions within a company.
A good S&OP process helps to manage the business profitably and to ensure customer satisfaction
A good S&OP increases the information visibility and helps to create a common understanding about the current state, the expected future demand and the supply. Furthermore, it helps to identify deviations, uncertainties and necessary decisions. Decisions are done utilizing existing information – both hard facts and tacit knowledge.
How is the S&OP –process typically organized?
S&OP (Sales and Operations Planning) is a set of data collection, analysis and decision-making processes which aim for balancing demand and supply. Within the process, a common understanding is created and decisions are made on actions needed. These create the foundation for future execution and delivery capabilities. An advanced S&OP links the financial planning to operational planning as well as high level strategic plans with day-to-day operations. The ultimate target is to achieve the company targets such as customer satisfaction (ability to deliver fast and accurately) and profitability (low costs)
In practice an S&OP has three main elements: demand forecasting and planning, supply planning, and the balancing of these two.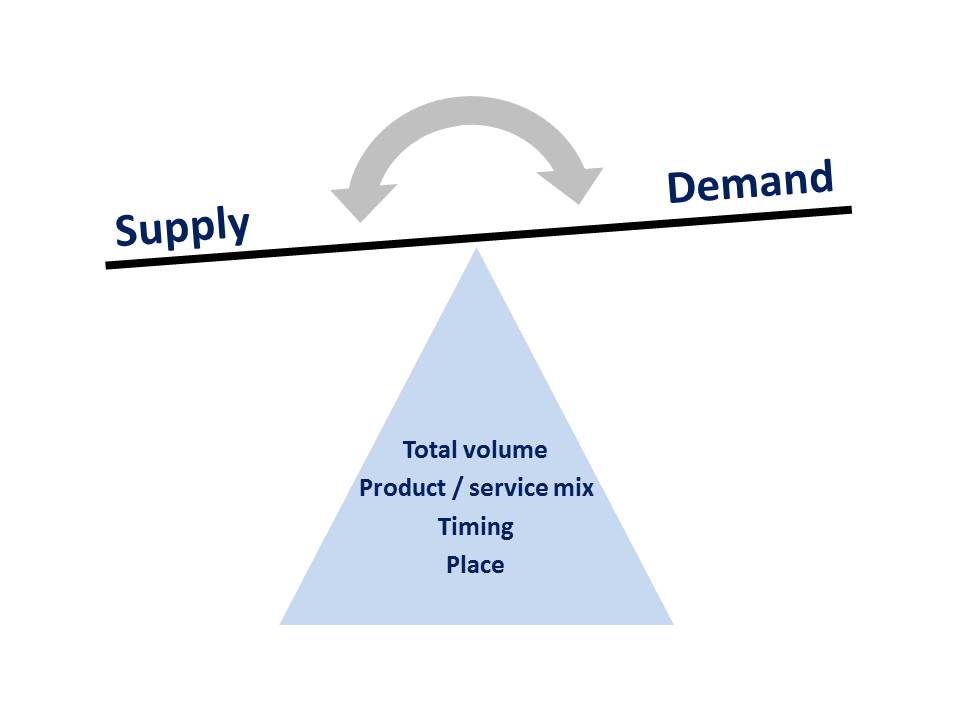 S&OP has typically a monthly or even weekly cycle. The starting point is to review the products (new product introductions, end of lifes, product changes…) with R&D, product management and marketing. In demand planning typical sources for information are past demand data, which is analyzed with mathematical methods, as well as expert information (customers, sales) about estimated future demand. Different pieces of information and points of view are combined to form a consensus, which is comapared to supply plan: are we capable to deliver the estimated demand? In supply review both materials as well as different capacities (production transportation) are considered. When balancing is needed, the actions can relate to demand (for example increased marketing efforts) or supply (additional production capacity for a product in high demand). The big picture is also addressed from financial point of view. Items which require management decisions are identified and prepared for the management S&OP meeting. The decisions and planned actions are informed to all stakeholders.
A good practice in a S&OP is to use same information throughout the process. For examples doubts about the sales forecast of a given area should be tackled through discussions and consensus rather than changing the numbers later in the process. These unified numbers can and should, however, be viewed from different angles for different purposes. This way it can be ensured that all resources are aligned to meet the anticipated demand.
The performance of the S&OP process should be measured, for example forecast accuracy.
The S&OP process, like any business process, should be improved constantly. When S&OP is developed into more strategic direction by for example strengthening the financial viewpoint amd proactive sales management, it will develop towards a holistic Integrated Business Planning.